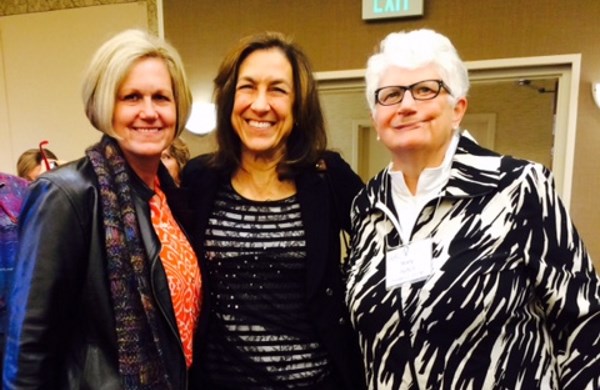 (l-r) Jody White, Kathleen Jennings, Mary Hatch
I have a confession to make: I'm not always particularly kind to myself. Recently I made a thoughtless comment to the plump middle-aged woman that looked back at me in the mirror. I won't repeat the comment, but it was not a very nice thing to say to my own reflection. It's a symptom of the way I sometimes fail to recognize my own worth.
Do you ever catch yourself doing something like this? Do you ever focus on your perceived shortcomings rather than celebrate your unique qualities? Are you free with praise when it comes to your friends, family members and acquaintances, yet fail to pat yourself on the back for your own achievements?
Let's all stop the negative talk with ourselves! Our self-talk should be about how smart, talented and simply amazing we are. And while thinking about your wonderfulness think of the other women in your life who share these - your - qualities and nominate them for our branch's Distinguished Woman of the Year, or to fill leadership roles for our organization for the 2015-16 year.
You might even want to nominate yourself for the Distinguished Woman of the Year award – and I certainly encourage you to volunteer to serve as an elected or appointed officer or committee chair! Contact me at (msorensen@joneswaldo.com) for a Distinguished Woman nomination form; let Ruthie Allen (epteamadv1@gmail.com) know if you are interested in taking on a leadership role).
Please celebrate your own fabulousness! You contribute so much to our branch!
Fabulously yours,
Marianne Sorensen
President
News / Announcements
Please submit your news by the 7th of the month you want your item to run. No forms - just send a regular email message with your information in the message itself or as an attached document. Send to: lysa@riverroad-productions.com
** February 16th is the last day to order a name badge for $5. You can order as many you'd like at this price. After the 16th the price will be $14 per badge. Contact Lynne Carlquist or Joyce Spinelli to place an order.
** Branch Member Directory: Carol Day and Carol Sawaya need our help to finish the ginormous project of creating and publishing a PRINT membership directory. If you have already filled out one of the forms that have been available at the past few luncheons - thank you! If not, please click on the link below to get your info to them. The quicker we can get them what they need the sooner we'll have something to hold in our hot little hands!
www.riverroad-productions.com/aauw-st-george-branch/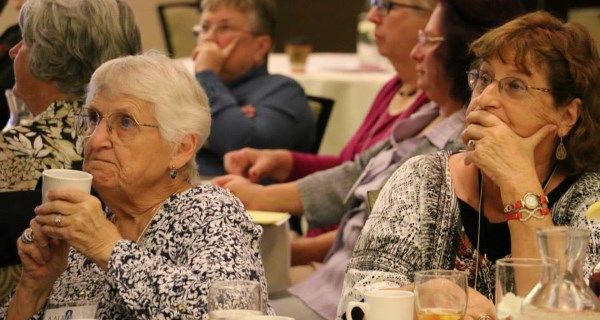 The Carols: (l-r) Carol Day, Carol Sawaya
** The eSmart Fashion Show date has been changed to March 21.
** Save the Date: April 25th AAUW Virtual State Convention to be held at DSU. Details are being finalized. Expected cost will be around $16 per person. (Cheapest state convention one could ever attend!)
Please join us for the first in our "Women in STEM" series featuring gifted, local professionals with distinguished STEM careers, presenting on a myriad of topics.
Our March luncheon will feature AAUW Member Candice Hansen-Koharcheck, PhD, on "Climate Change: Scientific Fact vs. Political Fiction."
Candice is a senior research scientist at the Planetary Science Institute who works on NASA un-manned (robotic) spacecraft missions. She has a Ph.D. in Planetary Science. Currently she is a member of the flight teams for the Cassini spacecraft, in orbit around Saturn, the Mars Reconnaissance Orbiter, at Mars, and the Juno mission, headed to Jupiter, from her office in St. George.
Kayla says: "Candy is passionate about climate change, a regular at Uppity Women, a treasured teacher at AAUW's eSMART Summer Camp for Girls and an all around nice woman. Gotta love it … a female in St. George who spends her days orbiting Saturn, checking out Mars and traveling to Jupiter."
This is a not to be missed presentation! Click here to reserve online.
Please take notice that a vote will be taken at this meeting/luncheon to amend the bylaws of AAUW Saint George Branch. A two-thirds vote of those present and voting at the meeting is required to amend the bylaws. A copy of the bylaws showing the changes that the Board of Directors is requesting is available for your review here.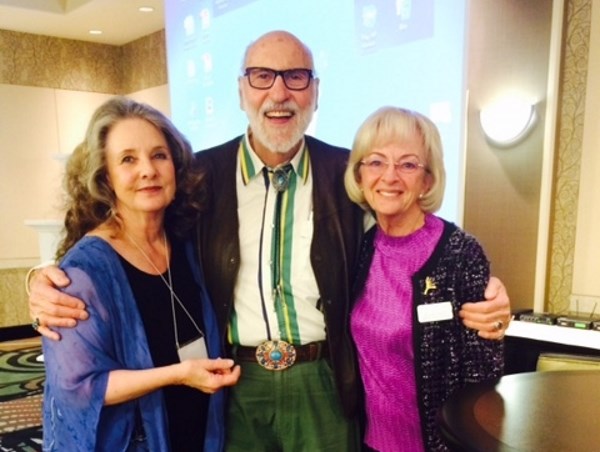 Pat Dalpiaz Photographer
(l-r ) Susan Ann Stauffer, Pat Sapio, Anita Stiens
Program chairs Angela Thoburn and Kayla Koeber promised this would be one of the most interesting luncheons we would have and they delivered. Presenters at the February luncheon - Susan Ann Stauffer, Pat Sapio and Anita Stiens, discussed the issues of: memory - the signs of normal aging vs the signs of something more significant; care-giving - the challenges and the opportunities inherent in care-giving; connection - the influence of connection on our well-being.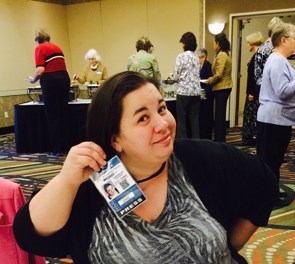 A show of hands indicated more than 90% of those in attendance either had or currently are, dealing with loved ones affected by dementia diseases such as alzehemiers. An extended Q&A session provided additional valuable information and support. Based on feedback this is a topic that merits revisiting.
For more about what was discussed at the luncheon as well as links to additional resources please check out Carin Miller's (pictured above) article in the St. George News.
Pat Dalpiaz (wo)manned the cameras. Thank you Pat! We do our best to put names to faces; if yours is missing it's not an oversight. We just don't know! Ok, the Editor does not know -- please feel free to enlighten her! And now for your viewing pleasure, and in no particular order, some snapshots from February's luncheon: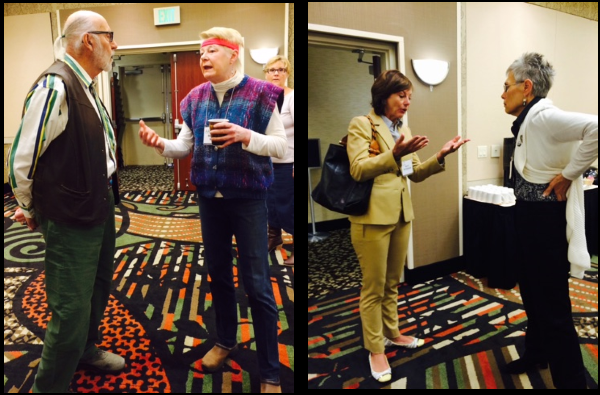 (l-r) Pat Sapio, Stephanie Martini, Katy Peterson, Pam Wootten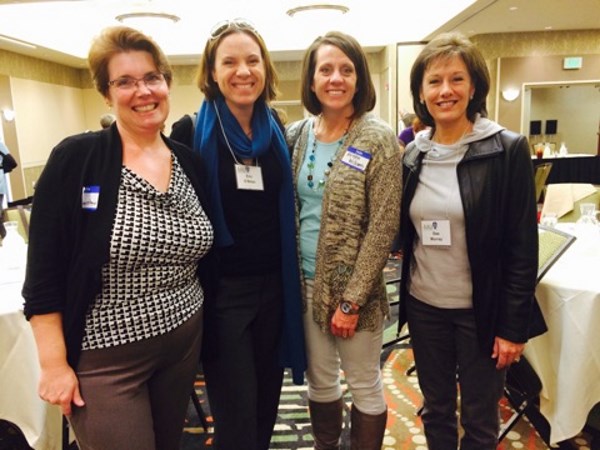 (l-r) Cheri Crenshaw, Erin O'Brien, Kristin Williams, Dee Murray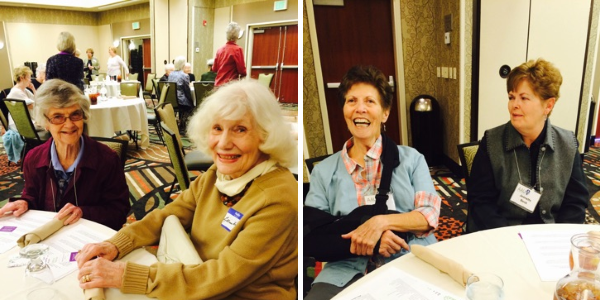 (l-r) Marilyn Wenzel, Guest, Vicky Picket, Unknown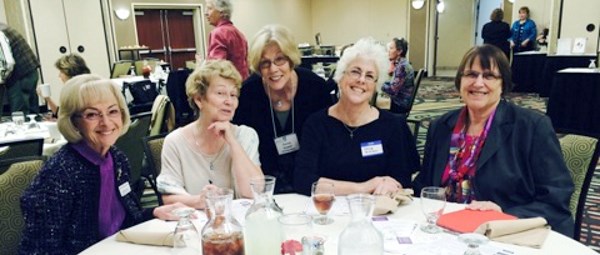 (l-r) Anita Stiens, Unknown, Donna Howell, Guest, Daphne Selbert
Wine, women and song comes to mind after the extended break of Uppity Women. The January gathering at Shannon Andersen's home was a huge success with 30 members attending. All agreed that hosting in members' homes was the way to go for this year.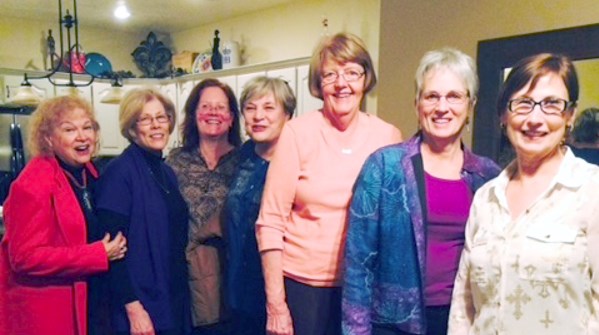 Pat Dalpiaz Photographer
Future Hostesses study these faces well...they were the last to leave!
(l-r) Nadine Barish, Donna Howell, Lysa McCarroll, Shannon Andersen, Kay Ackerman, Penelope Eicher, Gail Winterfeld
We have Hostesses signed up for each month through May. This month's Uppity Women is Thursday February 19 from 4:30 - 7 PM at Dorothy Engelman's home. Dorothy lives near Bloomington Country Club at 875 Rio Virgin, Unit 207. She will hang a balloon on the lamp post. RSVPs appreciated but not necessary. Just come and enjoy. Several members offered to assist Dorothy with appetizers. If you hate to show up empty handed a bottle of wine is appreciated. Other beverages will be available. Leftover, unopened beverages are passed on to the next hostess. All are welcome! This is purely a social event - a great way to get to know branch members.
By: Jeannette Johnson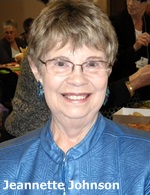 Jeannette Johnson is AAUW SGB's Public Policy LAF /EOF Chair
AAUW advocates for equitable climates free of harassment and bullying, as well as freedom from violence and fear of violence in schools. Sexual harassment is unwelcome conduct of a sexual nature and can be verbal, nonverbal, or physical conduct, including sexual assault.
AAUW research shows that harassment in school starts early and impacts most students; two-thirds of college students experienced sexual harassment and nearly half of students in grades 7–12 faced sexual harassment. When campus environments are hostile because of sexual harassment, assault, or violence, students cannot learn, and they miss out on educational opportunities. Incidents of sexual harassment and its most extreme form, sexual assault, are shockingly prevalent on college campuses nationwide.
Educational equity for women and girls requires fair, responsive, fully developed campus sexual assault policies, knowledgeable administrators, and, ultimately, an end to sexual violence on campuses.
Title IX
Title IX of the Education Amendments of 1972 is the federal law that prohibits sex discrimination, including sexual violence, in education and protects students from unlawful sexual harassment in all school programs or activities, whether they take place in the facilities of the school, or elsewhere. Title IX protects both female and male students from sexual harassment, regardless of who the harasser may be. Title IX requires schools to evaluate their current practices, adopt and publish a policy against sex discrimination, and implement grievance procedures providing for prompt and equitable resolution of student and employee discrimination complaints. Schools are required to eliminate sexual harassment and sexual violence, prevent their recurrence, and address their impacts.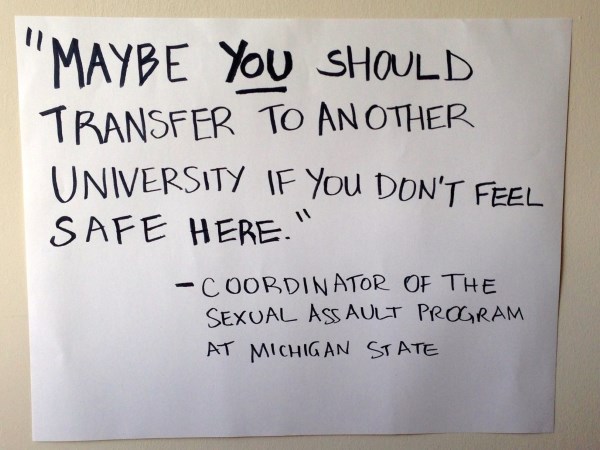 "Maybe you should transfer to another university if you don't feel safe here." –Coordinator of the sexual assault program at Michigan State source: Campus Dating Violence: Know Your Title IX
Violence Against Women Act
Violence against women is, collectively, violent acts that are primarily or exclusively committed against women. This type of violence is gender-based, meaning that the acts of violence are committed against women expressly because they are women. The UN Declaration on the Elimination of Violence Against Women states that: "violence against women is a manifestation of historically unequal power relations between men and women" and that "violence against women is one of the crucial social mechanisms by which women are forced into a subordinate position compared with men."
Violence and abuse affect women from all kinds of backgrounds every day and can cause terrible physical and emotional pain. The Violence Against Women Act (VAWA) was the first major law to help government agencies and victim advocates work together to fight domestic violence, sexual assault, and other types of violence against women. The reauthorized VAWA of 2013 included provisions to improve campus safety and are in addition to the longstanding obligations that schools have under Title IX. These laws can work together to ensure that students have the information they need regarding campus safety, as well as a clear course of action when sexual violence occurs.
The Clery Act and its 2013 amendment, The Campus Sexual Violence Elimination Act, or Campus SaVE Act (SaVE)
SaVE was designed by advocates along with victims / survivors and championed by a bi-partisan coalition in Congress as a companion to Title IX that will help bolster the response to and prevention of sexual violence in higher education. SaVE requires colleges and universities, both public and private, participating in federal student aid programs (covering virtually every campus in the U.S.) to increase transparency about the scope of sexual violence on campus, guarantee victims enhanced rights, provide for standards in institutional conduct proceedings, and provide campus community wide prevention educational programming.
Schools should already be making a "good faith" effort to follow these new provisions. Have you ever checked your school's annual security report, which explains its compliance? Consider checking the website of your alma mater, local college or university, or the school your children/friends/relatives attend, and search on "annual security report." The report should show up and have been updated on or by October 1. It should include these new statistics and mention the steps the school is taking to comply with the law. Checking up on institutions is a great way to help implement this strong new law that you helped make a reality!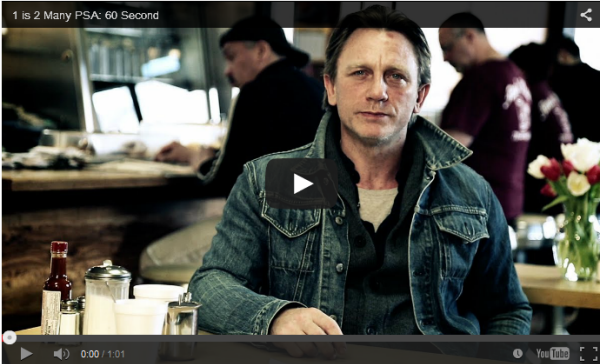 Help end violence against women
Violence does not hurt only the person who has experienced it. It hurts the whole community. Learn ways you can work to help end violence against women. Here are some suggestions:
Call the police if you see or hear evidence of domestic violence.

Support a friend or family member who may be in an abusive relationship.

Volunteer at a local domestic violence shelter or other organization that helps survivors or works to prevent violence.

Raise children to respect others. Teach children to treat others as they would like to be treated.

Lead by example. Work to create a culture that rejects violence as a way to deal with problems. Speak up against messages that say violence or mistreating women is okay.

Become an activist. Participate in an anti-violence event. Tell your elected representatives that you want them to support domestic violence services and violence prevention programs.

Volunteer in youth programs. Become a mentor. Get involved in programs that teach young people to solve problems without violence and teach teens about healthy relationships.

Ask about anti-violence policies and programs at work and school. At work, ask about policies that deal with sexual harassment; on campus, ask about services to escort students to dorms safely at night and other safety measures.
Next Steps to End Sexual Harassment and Violence
AAUW led the charge to include campus sexual violence elimination provisions in the VAWA reauthorization in 2013. As this new law is implemented, schools must step up and work to change the culture on their campuses. One way to make strides is to implement a climate and victimization survey to better understand both reported and unreported incidents as well as contributing cultural issues on campus.
AAUW also supports increased enforcement of federal civil rights laws by the Department of Education and Department of Justice, including additional funding for these agencies. We also support additional support for schools to educate students, faculty, and staff, particularly Title IX coordinators, as well as train the appropriate administrators on the relevant laws.
Finally, AAUW urges Congress to pass legislation that requires states and schools to develop policies for K–12 schools in two areas: preventing sexual harassment & violence and implementing procedures to effectively respond to such behavior.
Welcome new members: Liz Goddard, Anita Stiens, Alberta Miller, Florence Bacabac and Shawn Darby!
Spotlight on Kay Ackerman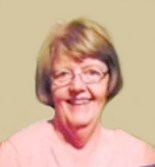 Kay has always worked with organizations and agencies that provide services to women and children. She was the Assistant Director of Prince William County, VA Dept. of Social Services before she retired and relocated here to St. George in the fall of 2008. Her previous jobs included director of a women's resource center & safe house in Alaska and program director at a YWCA in IL.
"I am passionate about being exposed to different areas of the US and the world. When I was 17, I was fortunate to spend 10 weeks touring Europe with a group called Teen Overseas Project...it was 1959 and that experience changed my life." And Kay is always looking for opportunities to change a local woman's view of herself and others. One of the reasons she is a tireless fundraiser for our Branch.
Kay first joined AAUW around 1975 and has been a member since then in branches in IL, AK, VA and now UT. She was a member at large during the two years she lived in the Shetland Islands, Scotland. Kay has served on the AAUW VA State Board as Public Policy Chair and as Educational Foundation Chair. To celebrate AAUW's 75th Anniversary in VA, she co-chaired a project to raise $75,000 by asking 75 women to donate $1000. They ultimately raised over $80,000. The money was used by the Association to fund a research paper about online learning.
She has one daughter, son-in-law and two grandchildren ages 13 and 15 who live in VA. Enjoys water aerobics, Book Club, walking/easy hiking, cooking, Uppity Women, wine, movies, the theatre, friends near and far. She recently co-chaired her 50th college reunion.
Kudos Korner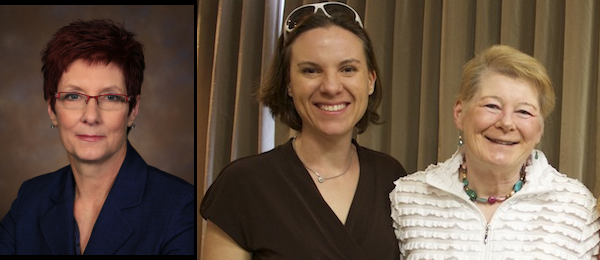 (l-r) Gay Cunningham, Erin O'Brien, Stephanie Martini
A big round of applause for: Gay Cunningham incoming chairman of the St. George Chamber of Commerce; Erin O'Brien awarded the Woman of Achievement Award in the area of academics / cultural arts by Utah Business Women; and Stephanie Martini who received their Humanitarian/Philanthropic Achievement Award.
Calendar items will run until the event has occurred. Please submit your event by the 7th of the month you want the notice to start. No forms - just send a regular email message with your information in the message itself or as an attached document. Send to: lysa@riverroad-productions.com
February 19, 2015
Date:
Thursday, February 19, 2015
Time:
1:15 p.m.
Where:
St. George Library
St. George, UT 84790
Topic:
Russia and The Near East
Cost:
$25 for study guide, includes video for each topic
Contact:
Carol Sawaya
435-272-4919
carol@thesawayas.com
February 19, 2015
Date:
Thursday, February 19, 2015
Time:
4:30 p.m. - 7:00 p.m.
Where:
Dorothy Engelman's Home
875 Rio Virgin Dr., Unit 207
St. George, Utah 84770
Cost:
$0.00
RSVP:
Appreciated - but not necessary!
435-879-1558
February 21, 2015
Date:
Saturday, February 21, 2015
Time:
9:00 a.m. - 5:00 p.m.
Where:
DSU
Cost:
$10 per girl, $5 per parent/guardian
Website:
http://stgeorge-ut.aauw.net/tech-savvy/
Contact:
Erin O'Brien
Add'l Info:
Lunch will be at 1 at the Gardner, donated by Jimmy Johns. Please let Erin or Rachel know if you plan to attend. If you want to help with assembling the give-away packets be at the Hazy Bldg. on the 19th at 6 PM.
March 2, 2015
Date:
Monday, March 2, 2015
Time:
11:00 a.m. - 1:00 p.m.
Where:
Courtyard by Marriott
185 S 1470 E,
St. George, UT 84790
Cost:
$16 per person
Paid Reservation Required
March 21, 2015
Date:
Saturday, March 21, 2015
Time:
12:00 p.m. to 2:20 p.m.
Where:
Entrada Country Club
Cost:
$35 per person $420 per table of 12
Click here to buy tickets online.
Contact:
Erin O'Brien

You may also purchase tickets directly from Erin or Rachel.
April 25, 2015
Date:
April 25, 2015
Time:
8:00 a.m. - Noon, lunch to follow TBC
Where:
DSU
Gardner Center Cottam Conference Room
Cost:
TBD
Contact:
Pam Wootten
Add'l Info:
This will be a virtual convention. No travel north, no hotel rooms – just great presentations and getting familiar with what the state organization and other branches are doing, as well as being able to spotlight all the great achievements of our branch this year! Our goal is to allow technology to help us be more efficient in bringing AAUW, national and state, to St. George! Arrangements are being made to secure a room with technological amenities to allow us to see and hear the other branches congregating in SLC as well as Patricia Fae Ho, national AAUW president and another national officer who will join us. Final approval of revised Policies and Principles, annual budget, bylaws changes, officer election and other business as deemed necessary at the next board meeting.
June 18 - 21 2015
President's Message
News / Announcements
March Luncheon: Women in STEM Series
Etcetera
Subscription Info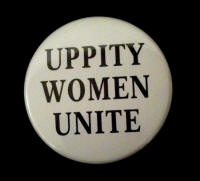 NEWSLETTER SUBMISSIONS
Please submit news, information, committee updates, etc. no later than the 7th of the month to be included in that month's newsletter.
No forms - just send a regular email message with your item in the message itself or as an attached document.
If you are including a picture please be sure you have the right to use it.
Send to:
Lysa McCarroll
The St. George Branch Program and Membership Meeting Luncheons are held on the first or second Monday of each month at 11:30 a.m. at the Courtyard by Marriott, located at 185 S 1470 E, St. George, UT 84790.
Lunch is $16.00 per plate and features educational speakers that are of interest to our membership.
---
11:00 a.m.
Doors Open
11:30 a.m.
Lunch is Served
11:45 a.m.
Meeting Begins
12:00 p.m.
Program Starts
1:00 p.m.
Luncheon Over
---
September 8, 2014
October 6, 2014
November 10. 2014
December 1, 2014
January 5, 2015
February 2, 2015
April 6, 2015
(Annual Meeting at new Promise Church)
May 4, 2015
(Scholarships)
RESERVATIONS ARE REQUIRED
Board Meetings are held at Jones-Waldo and start promptly ;-) at 4 p.m.
September 15, 2014
October 13, 2014
November 17, 2014
December 8, 2014
January 12, 2015
February 9, 2015
March 9, 2015
April 13, 2015
May 11, 2015
AAUW STATE BOARD
Pam Wootten who will be moving up to Senior Co-President of AAUW Utah would like to have more St. George Branch members on her team. One person is needed to serve on the Nominating Committee. This is a volunteer/appointed position. You should have a good sense of who our members are. Candidates are needed to run for for Co-VP and Financial Officer. Please get in touch with Pam for the details: ptwootten@gmail.com
ELECTED OFFICERS
President
Vice President
Co-Vice Presidents Programs
Co-Vice Presidents Membership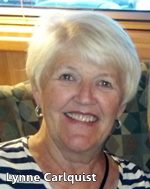 Co-Vice Presidents Finance
Co-Secretaries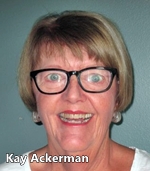 APPOINTED OFFICERS
VP Communications
Lysa McCarroll
(and Newsletter Editor)
Past President/
Nominating Committee Chair
CORRESPONDING SECRETARIES
Lolita Hagio
hagio@sunrivertoday.com
phone: 652-3012
Lesley McPeek
lh.mcpeek@gmail.com
phone: 674-9493
We really feel that staying in touch and supporting our members at all times is an important part of our AAUW community. We look forward to monthly updates in our "Members Matter" column, but we also want to emphasize that we value your privacy and will not "publish" anything without your okay.
To that end, if you have news, good or not-so-good, about a member, please ask her if it is okay to inform other members through the newsletter. If not, that's perfectly okay, and we will just send her a private note.
St. George News: Women, Aging and Memory care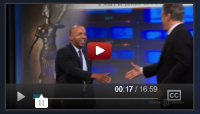 February
02-01 Mary Bartholomaus
02-01 Marianne Sorensen
02-04 Kay Ackerman
02-11 Angela Thoburn
02-15 Rachel Ramsay
02-16 Nancy Neff
02-19 Bonnie Boling
02-19 Martha Heuer
02-20 Terry Ogborn
02-23 Sandra Griffin
02-26 Cindy Smith
02-27 Ashley Gilreath

March
03-08 Brittany Hammontree
03-15 Elizabeth Adams
03-16 Kara Needles
03-16 Linda Timmins
03-18 Darla Hunt
03-25 Linda Adams
03-29 Della Lowe
03-29 Lysa McCarroll

State
Branches
You would like to submit an item for the newsletter:
Lysa McCarroll
You need to register for a luncheon but the deadline has passed:
Bonnie Boling
Your contact information changes:
Joyce Spinelli
You have questions about or information for the website/facebook:
Dawn McLain
You have troubles registering for luncheons, and other tech-related questions:
Lysa McCarroll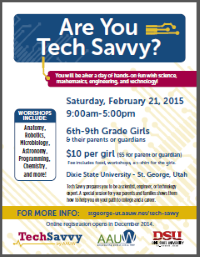 Anita Stiens last name was misspelled one time and one time only in last month's newsletter. Honest.

National
Orrin Hatch (R)
Senior Senator
Mike Lee (R)
Junior Senator
Chris Stewart (R)
Representative
2nd District 2
State
Find your Legislator and his contact information here.
Track Bills of interest to you here.
General Info about the Utah State Legislature and how it works.
Is your Rep ethical?
Bills & Resolutions for the 2015 Session
Advancing equity for women and girls through advocacy, education, philanthropy and research.
Our Principles
Our actions reflect our mission and are ethical, honest and professional.
***
We challenge our thinking on contemporary issues through stimulating discussions and activities
***
We foster an environment built on respect, a value for diversity of opinion, and a belief that members approach issues with good intentions.
***
We resolve issues face-to-face whenever possible, avoiding triangulation.
***
When conflicts surface, we seek resolutions rather than blame and ask for assistance if needed.
***
We hold each other responsible & accountable for exemplifying our guiding principles and fulfilling our individual responsibilities.
***
We support board decisions and each other and celebrate our unique gifts.
***
We want to support our working members. To get started we will be including business cards in the Newsletter as space permits. Please send a picture of your business card to Lysa McCarroll or give her one the next time you see her.
Mailing Address
AAUW - St. George Branch
P.O. Box 790
St. George, Utah 84771
---