News / Announcements

L-R: Lowrey Snow, Dorothy Engelman, Don Ipson, Cheryl Fae Hawker, Jeannette Douglas, Zach Renstrom, Chris White, Victor Iverson, Paul VanDam
The following was a Letter to the Editor submitted to The Spectrum and copied to us:
Congratulations to the women of the St. George Branch of AAUW for demonstrating political campaigning can be civil and informative.
Their recent luncheon forum for some of Washington County's mainstream candidates was, as promised, a courteous conversation - demonstrating there is still hope for bipartisan respect in this Washington, if not the other.
The questions asked of the candidates by AAUW were extraordinarily thorough and detailed. In fact they could provide a primer on the central issues the candidates will face this coming year. I believe they will be made available on their website: http://stgeorge-ut.aauw.net. *
Time didn't permit detailed answers but the audience had the opportunity to get a strong impression of each candidate and how she or he is likely to vote on matters that come before them.
Glenn Campbell
St. George, Utah
* For a complete copy of all the questions Jeannette Johnson prepared for our Candidate's Forum click here: www.riverroad-productions.com/aauw/AAUW-StG-pre-election-questions-to-ponder.pdf.
Also, we had two Candidates that wanted to attend but we were unable to accommodate them. Ken Anderson (Democrat HD-71) and Nihla Judd (Independent American Party HD-75) both said they would like to participate in writing and had the option to choose & answer three of the questions that were asked of the candidates. Here are Ken's responses: www.riverroad-productions.com/aauw/aauw-stg-2014-candidates-forum-ken-anderson-hd-71-answers.pdf
We had a full house with lots of new faces!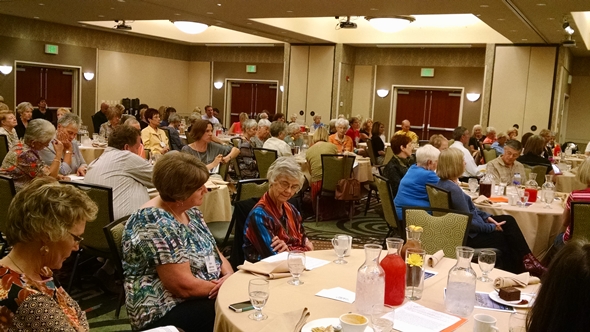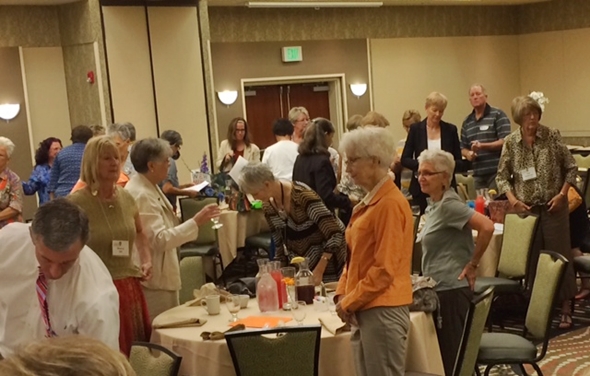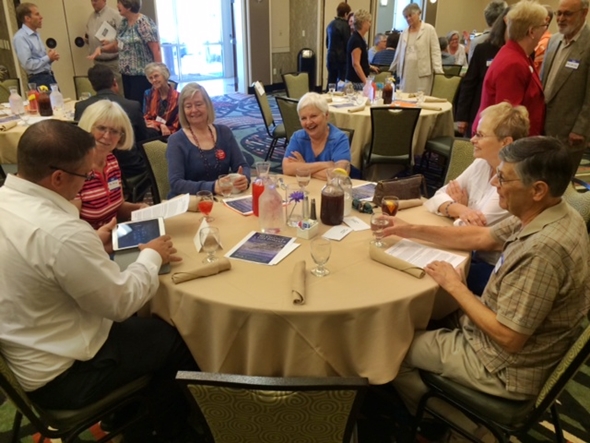 Thank you Lisa Rutherford, Gary Engelman and Kayla Koeber for taking and sharing your pictures with us.
Utah has one of the largest male-to-female wage gaps in the nation. Understanding the root causes in gender pay inequality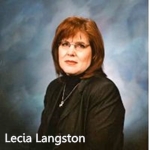 provide a necessary foundation for addressing the existing wage gap. Why do men, in general, make more than women? How do Utah's peculiar demographics play into its larger-than-average pay gap? The answers may surprise you.
Lecia Langston, Regional Economist for ten counties in central and southwestern Utah will use current data and research to help enlighten us at the November luncheon and dispel the myths surrounding male and female pay both in Utah and the nation.
Ms. Langston is also responsible for producing Utah's occupational projections and is an expert in women's labor force participation. She is the author of "Hard at Work; Women in the Utah Labor Force."
Reserve now for the November 10th Luncheon.
You are a devoted Math teacher. You LOVE all things math and anything that channels that passion. You're female and fight the mainstream
messaging of "girls can't do math." You're called a "crazy bi**h" because you complain to a company that markets socks to girls and their "bestie" or "aunt" that say "The three things I hate most are math."
Seriously.
As reported on AAUW this is what happened to Cindy Phillips, a math teacher in the New York City area, when she contacted Blue Q ("proud designers and manufacturers of life-improving, joy-bringing products since 1988") about the socks they make that she found so offensive.
The "crazy bi**h" label came from a female member of the company's design team. The owner of the company, Mitch Nash, made her comment pale in comparison with his closing email to Ms. Phillips:
Ms. Phillips,

MAN your panties are in a bunch!

Get some air up there!

Love, Mitch
The entire email exchange Ms. Phillips had with the company can be found here: http://100notes.blogspot.com/2014/10/blueq-socks-in-order.html Warning: reading it probably will get your panties in a bunch!
Editor's note: no link backs to Blue Q are intentional. If you would like to "share" your thoughts with them their facebook page is here: https://www.facebook.com/Blue2theQ
Joyce Spinelli & Lynne Carlquist are hosting a new member orientation this Friday, October 17th from 4-6 p.m. at the Legacy Clubhouse 2634 South Legacy Dr. (Turn south off of 600 west, to the Tonaquint 'round about....stay right, go a block and then left onto Legacy Drive.) Information and lively conversation will be enhanced by tapas, wine and other beverages. Please let them know ASAP if you will be attending.
A big round of applause to our beloved, long term AAUW member Carol Day for her strength and survivorship skills. Sometimes life comes at you at 150 mph! Carol had been dealing with severe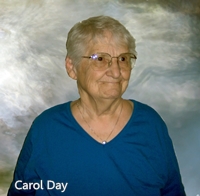 back pain that led her to the Mayo Clinic in 2013 at Bobbie Sylvester's urging. Just as she got a handle on her back she broke her left arm. Sheesh! Yet she remains a strong member of AAUW attending lunches, events and Uppity with a walker if necessary. What you may not know about Carol is she was Branch President through some tough years as our numbers dwindled and support flagged. She is also the last of her family, having lost her Dad when she was 16, Mom in 1999 and sisters in 2010 and 2013. So kudos to Carol for keeping the flame of our Branch and her family alive. Please introduce yourself to Carol if you have not had the pleasure and let her know we are glad she is a part of OUR family. Carol, we salute your grit and courage!
Barbara Brahm (our AAUW Hat Lady) was discharged from Coral Desert Rehabilitation, and is now at home: 1001 N. Ventana Dr. Washington, UT 84780. Tel. (435) 627- 2790. IWe're sure she would appreciate a call, or a card; and if you are in the neighborhood, a little visit. You are in our thoughts, Barbara—we miss you, and are looking forward to when you are able to join us at our luncheons!
Judith Kapuscinski lost her partner for 19 years, Richard Kinsman, and she is experiencing sorrow and loss like nothing before. He died on
September 24th after a valiant battle with cancer. He was given 6 months to live 22 months ago and confounded his doctors along the way. Richard enjoyed 36 years of sobriety and, to many, was the epitome of a person who accepted what he could not change, changed what he could, and knew the difference. His sincerity, integrity, humor, and ability to make all feel equal and respected made Richard a unique and amazing individual. Celebrations of his life will be held in Ivins, Utah, and Providence, Rhode Island.For details, go to www.caringbridge.org and visit Richard Kinsman's site. Donations in Richard's memory may be made to Kayenta Arts Foundation at www.kayentaartsfoundation.org or to an alcohol recovery program of your choice.
* * * * * * * * * * * *
We really feel that staying in touch and supporting our members at all times is an important part of our AAUW sisterhood. We look forward to monthly updates in our "Members Matter" column, but we also want to emphasize that we value your privacy and will not "publish" anything without your okay.
To that end, if you have news, good or not-so-good, about a member, please ask her if it is okay to inform other members through the newsletter. If not, that's perfectly okay, and we will just send her a private note.
Thank you,
Lolita Hagio (hagio@sunrivertoday.com) phone: 652-3012
Lesley McPeek ( lh.mcpeek@gmail.com) phone: 674-9493
"When people realize what scholarships and donations can do for families, they are more willing to give. I would not be where I am today without my strong, amazing mother and her example. Although I only received my PHT (Put Hubby Through) and have a few years of college, I am a firm believer in education for women and my own daughter is an honor student at the U.
"The events I've attended in the past with vacation give always have raised thousands of dollars - if we do it right. I never donate vacations, but I am doing this because I was eight years old when my parents divorced. My mother put herself through college (on the Dean's List) with two small children while she waited tables at night. Had it not been for generous scholarships from AAUW and various organizations, she never would have made it through. She became a teacher, went back for her Masters, and changed thousands of lives. This is my way of giving back and the reason why I care about the success of the donation."
Celece Seegmiller
Owner of The Travel Connection
AAUW St. George member
Celece has generously donated 6 Nights at Sun Palace Cancun - an all Inclusive Beach Resort in Cancun, Mexico - to be auctioned off at this year's Author's event. Each room has a private balcony with views of the Caribbean Sea or Nichupte Lagoon. Abundant amenities await each guest - double Jacuzzi in each room, 24 hour room service, king bed, five restaurants and three bars offer enticing international dining and cocktails -all part of the All-Inclusive features. Golf enthusiasts can enjoy a challenging round at the nearby Moon Spa and Golf Club or Rivera Cancun Golf Club, both home to Jack Nicklaus Signature courses.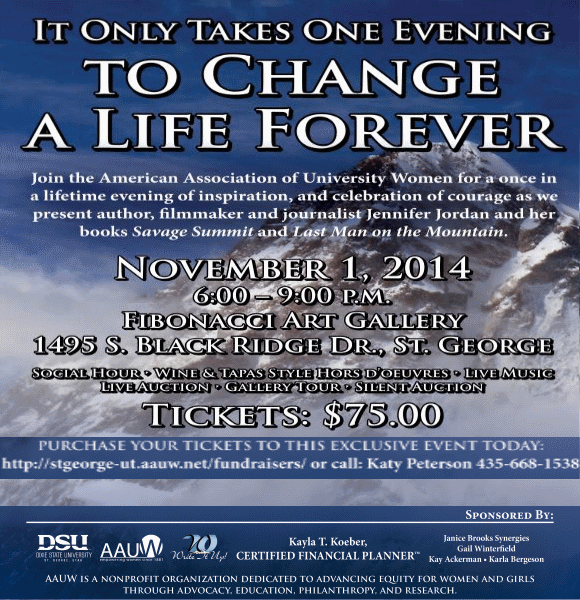 Jennifer Jordan will be speaking at Fibonacci Art Gallery on November 1 from 6:00-9:00pm. Tickets are $75 each and include heavy appetizers, wine, non-alcoholic beverages, coffee and desert.
For more information contact Katy Peterson, AAUW Scholarship Committee co-chair - katypeterson3@gmail; 435-668-1538. Click here to purchase tickets online.
Good news: more of you have signed up for Special Interest Groups. :-)
Bad news: no one is willing to take the first step to actually make their group happen. :-(
If you want the group (or groups) that you are interested in to get started then please get in touch with Angela Thoburn (angelathoburn@gmail.com). She will give you the contact info for the other people who said they too want to do the same things you want to do! Organize the FIRST meeting to determine how you'll want to continue meeting.
Here are the groups we said we wanted:
Bridge
Book Club
Tennis and/or Golf
Music Appreciation & Music Therapy
Water Sanitation Issues
Hiking
Gardening

AAUW Mission Related Issues
Walking
Mentoring
Meet and Eat
Scrapbooking
Great Decisions
Photography
Next month we hope to be able to post this list with a contact person for each group! :-)
As part of our desire to reach out more to the community Penelope Eicher is organizing a gift collection for two area assisted living facilities: Emeritus & Kindred. The items listed below are the kinds of things needed. They do not have to be new, re-gifting is okay! The facility will wrap the gifts and match the items to the residents according to their interests and needs. Items will be collected at the December 1 luncheon.
*Gift bags and tissue paper*
Tabletop photo frames
Coffee cups and mugs
Music boxes
Shampoos and conditioners
Lotions
Perfume
Word search booklets
Crossword puzzles
Reading material
Handkerchiefs (men & women)
Notecards
*CASH so we can buy these things for you*
Bookmarks
Hats, gloves, scarves (winter)
Small stuffed animals
Footsies skid-proof socks
Adult topic coloring books
Colored pencil sets
Art marker sets
Art sketch books
Stationary
2015 calendars
If you have questions or would like to give Penelope a hand with this please call her at 435-619-0797 or send an email to penelope@heartwalkfoundation.
EVENTS CALENDAR
Calendar items will run until the event has occurred. Please submit your event by the 7th of the month you want the notice to start. No forms - just send a regular email message with your information in the message itself or as an attached document. Send to: lysa@riverroad-productions.com
October 29, 2014
Date:
Wednesday October 29, 2014
Time:
8:00 a.m. - 3:00 p.m. Full Shift (lunch included)

8:00 a.m. - 11:30 .m. Morning only

11:30 a.m. - 3:00 Afternoon only

Where:
Snow Canyon Middle School
215 North Lava Flow Drive
St. George, UT 84770
Contact:
Vicki Jennings: den_vic@infowest.com
November 1, 2014
November 10, 2014
Date:
Monday, November 10, 2104
Time:
11:00 a.m. - 1:00 p.m.
Where:
Courtyard by Marriott
185 S 1470 E,
St. George, UT 84790.
Cost:
$16 per person, Paid Reservation Required
November 12, 2014
Date:
Wednesday November 12, 2014
Time:
8:00 a.m. - 3:00 p.m. Full Shift (lunch included)

8:00 a.m. - 11:30 .m. Morning only

11:30 a.m. - 3:00 Afternoon only

Where:
Pine View Middle School
2145 East 130 North
St. George UT 84790
Contact:
Vicki Jennings: den_vic@infowest.com
November 13, 2014
Date:
Thursday November 13, 2014
Time:
8:00 a.m. - 3:00 p.m. Full Shift (lunch included)

8:00 a.m. - 11:30 .m. Morning only

11:30 a.m. - 3:00 Afternoon only

Where:
Hurricane Middle School
395 North 200 West
Hurricane UT 84737
Contact:
Vicki Jennings: den_vic@infowest.com
November 19, 2014
Date:
Wednesday November 19, 2014
Time:
8:00 a.m. - 3:00 p.m. Full Shift (lunch included)

8:00 a.m. - 11:30 .m. Morning only

11:30 a.m. - 3:00 Afternoon only

Where:
Dixie Middle School
825 South 100 East
St. George UT 84770
Contact:
Vicki Jennings: den_vic@infowest.com
November 20, 2014
Date:
Thursday November 20, 2014
Time:
8:00 a.m. - 3:00 p.m. Full Shift (lunch included)

8:00 a.m. - 11:30 .m. Morning only

11:30 a.m. - 3:00 Afternoon only

Where:
Desert Hills Middle School
936 East Desert Hills Drive
St. George UT 84790
Contact:
Vicki Jennings: den_vic@infowest.com
News / Announcements
Events Calendar
Etcetera
Publicist
Join our Communications team! Journalism / English / PR / Marketing background would be great! Bonus if you have any online experience, i.e.: html/css coding, email marketing, social media. But totally not necessary! Please contact Lysa McCarroll
Reality Store
Volunteers needed for the Reality Stores. SNOW CANYON IS FULL. Check the calendar for dates and locations. Please contact Vicki Jennings to sign up.
Photographer(s)
If you are willing to take pictures at AAUW events -- particularly luncheons -- please do so! You do not have to do any kind of editing to them -- just take them and send them to Lysa McCarroll
NEWSLETTER SUBMISSIONS
Please submit news, information, committee updates, etc. no later than the 7th of the month to be included in that month's newsletter.
No forms - just send a regular email message with your item in the message itself or as an attached document.
Email to:
Lysa McCarroll
The St. George Branch Program and Membership Meeting Luncheons are held on the first or second Monday of each month at 11:30 a.m. at the Courtyard by Marriott, located at 185 S 1470 E, St. George, UT 84790.
Lunch is $16.00 per plate and features educational speakers that are of interest to our membership.
---
11:00 a.m.
Doors Open
11:30 a.m.
Lunch is Served
11:45 a.m.
Meeting Begins
12:00 p.m.
Program Starts
1:00 p.m.
Luncheon Over
---
September 8, 2014
October 6, 2014
December 1, 2014
January 5, 2015
February 2, 2015
March 2, 2015
April 6, 2015
(Annual Meeting at new Promise Church)
May 4, 2015
(Scholarships)
RESERVATIONS ARE REQUIRED
Board Meetings are held at Jones-Waldo and start promptly ;-) at 4 p.m.
September 15, 2014
October 13, 2014
November 17, 2014
December 8, 2014
January 12, 2015
February 9, 2015
March 9, 2015
April 13, 2015
May 11, 2015
ELECTED OFFICERS
President
Vice President
Co-Vice Presidents Programs
Co-Vice Presidents Membership
Co-Vice Presidents Finance
Co-Secretaries
APPOINTED OFFICERS
VP Communications
Past President/
Scholarship Committee Chair
You have questions about the website:
Dawn McLain
You have troubles registering for luncheons, and other tech-related questions:
Lysa McCarroll
Your contact information changes:
Joyce Spinelli
You need to register for a luncheon but the deadline has passed:
Bonnie Boling
You would like to submit an item for the newsletter:
Lysa McCarroll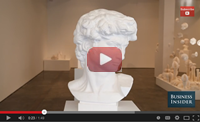 The Spectrum
Letters to the Editor
Kay Ackerman: Senator Lee Should Get Out Of The Way
Lysa,
Every year, the Washington County Children's Justice Center sells apples as one of their largest fundraisers for the year. I am now the Chairperson for the Friends Board (their fundraising board) for the WCCJC. I'd like to put one of our fliers in the AAUW October newsletter.
Thank you,
Donna Roberts
AAUW St. G Member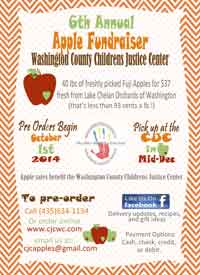 Children's Justice Center 6th Annual Apple Fund Raiser is in progress!
To order call 435-634-1134 or online at www.cjwc.com
---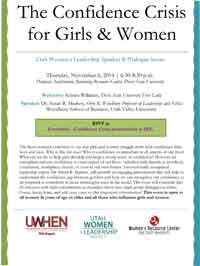 The latest research continues to say that girls and women struggle more with confidence than boys and men. Why is this the case? Why is confidence so important in all aspects of our lives? What can we do to help girls develop and keep a strong sense of confidence? Dr. Madsen's engaging presentation will help us understand the confidence gap between genders and how we can strengthen our confidence to be prepared to contribute in more meaningful ways in the world. The event will conclude (last 45 minutes) with light refreshments as attendees move into small group dialogues at tables. Come, listen, learn, and add your voice to this important conversation! This event is open to all women 16 years of age or older and all those who influence girls and women.
Nov 6th 6:30-8:30 p.m.
October
10-08 Grace Trojan
10-10 Kayla Koeber
10-29 Jean Volz
10-31 Judith Kapuscinski
November
11-01 Stephanie Martin
11-03 Barbara Brahm
11-04 Sue Shives
11-07 Sherma Bishop
11-08 Pam Connors
11-08 Karla Bergeson
11-12 Jan Baumer-Kendrick
11-13 Chris Wheeler
11-21 Gay Cunningham
11-22 Katy Peterson
11-23 Carol Cashman
State
Branches
Newsletter Submissions
Please submit your news by the 7th of the month you want the notice to start. No forms - just send a regular email message with your information in the message itself or as an attached document. Send to: lysa@riverroad-productions.com
---